Love Where You Live-Superior Care's Community Impact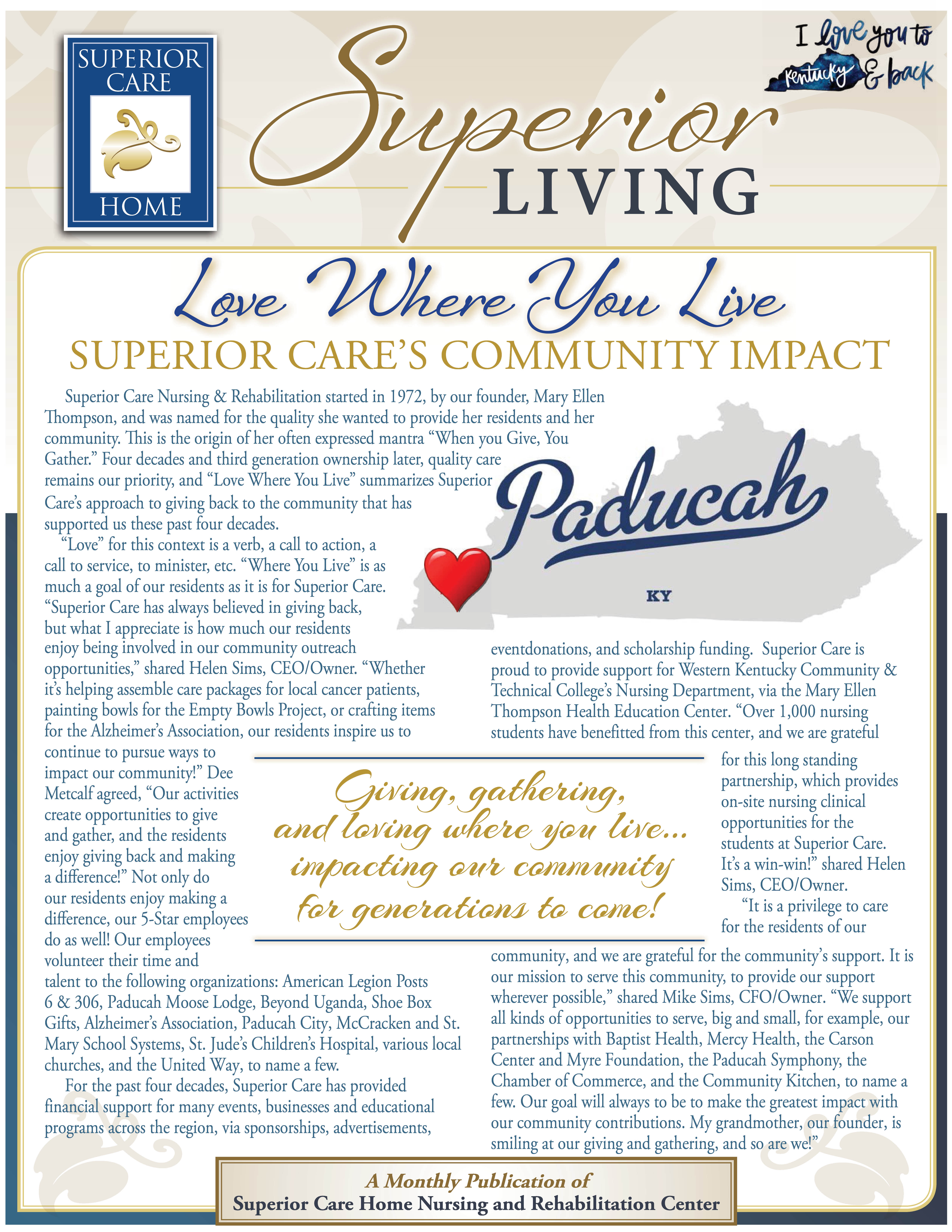 JULY 2020 VUE MAGAZINE Small Business Feature Article-
Superior Care Home-
An Organization Stands By Its Name During Global Health Crisis
Read VUE Magazine article here.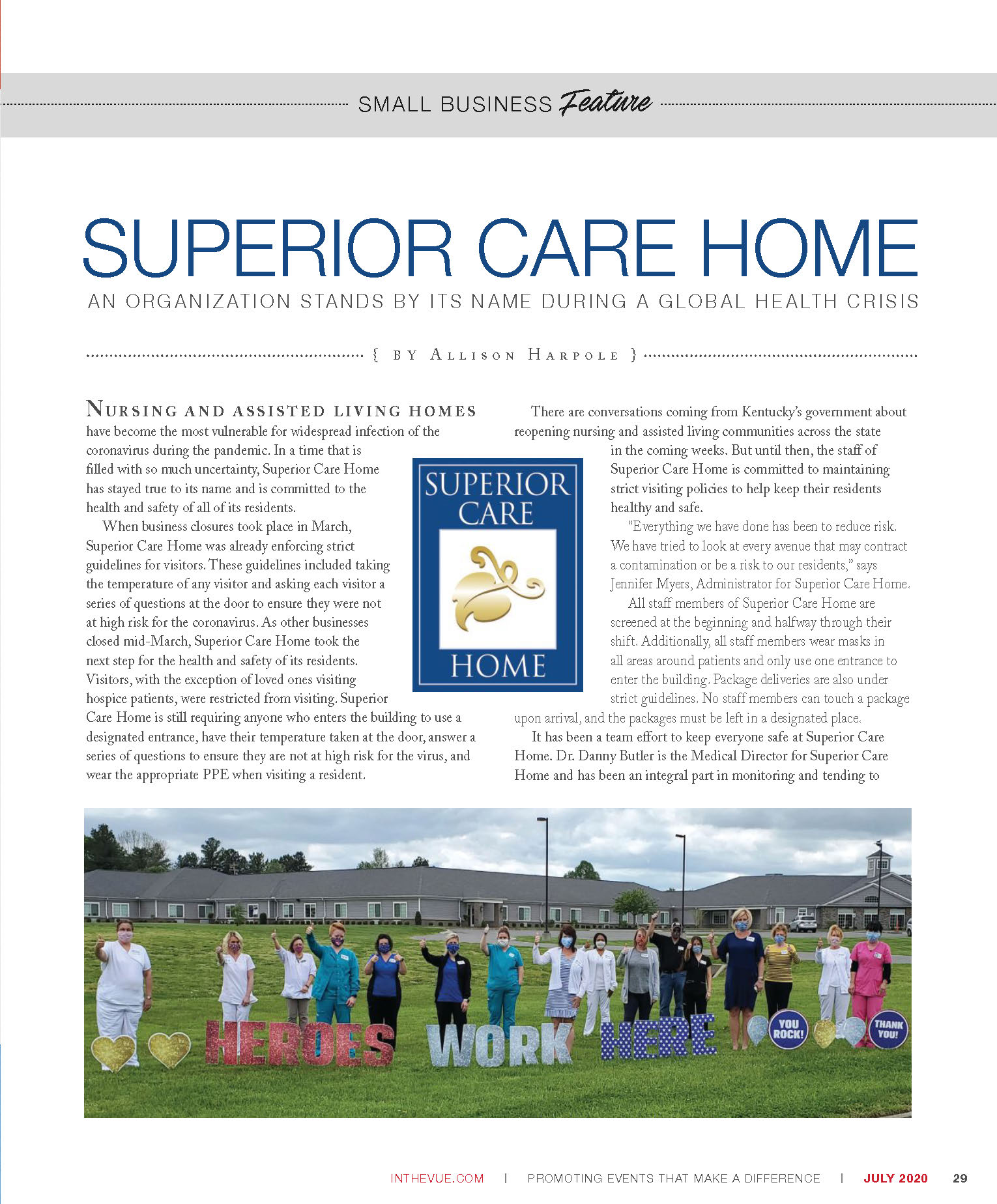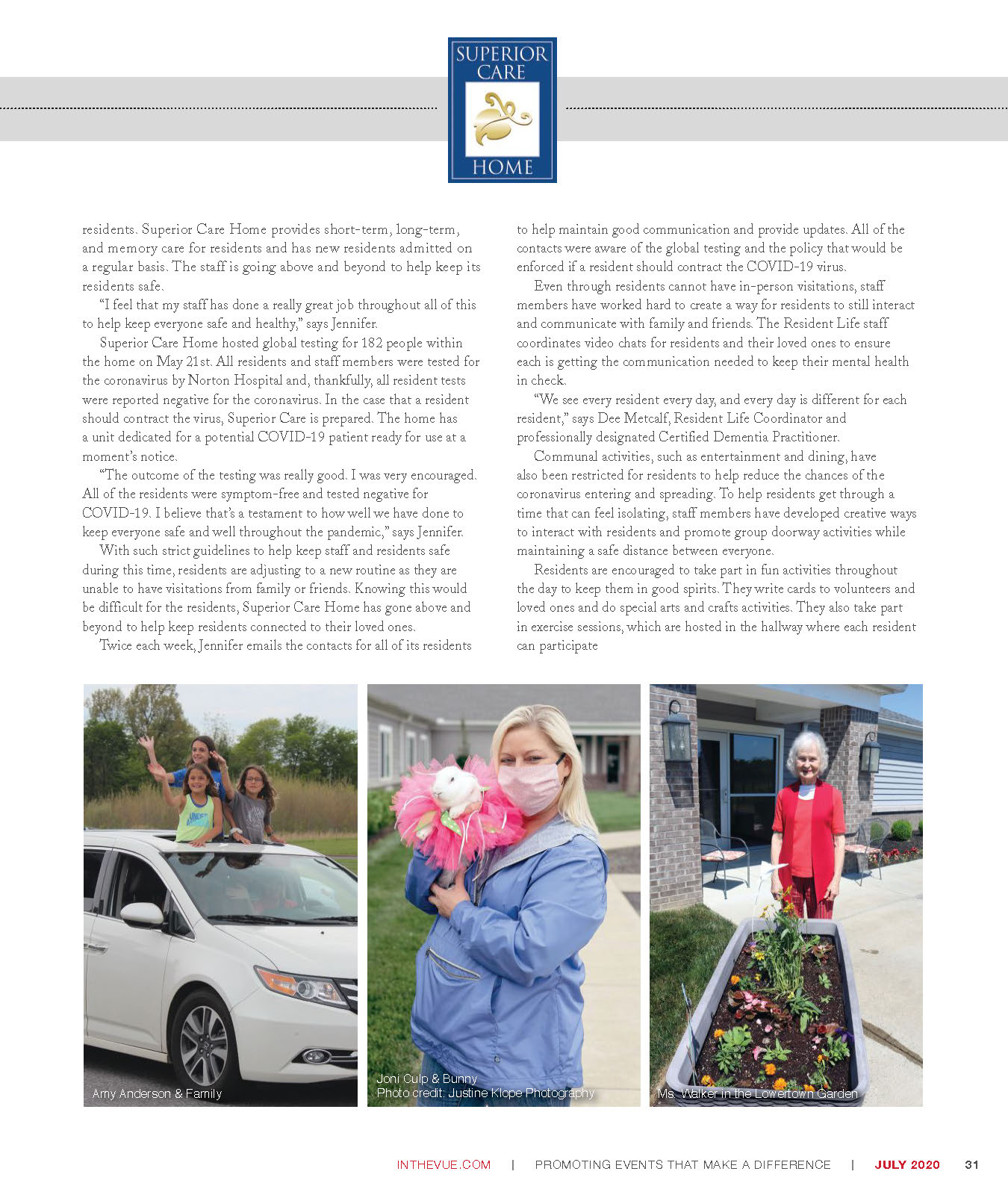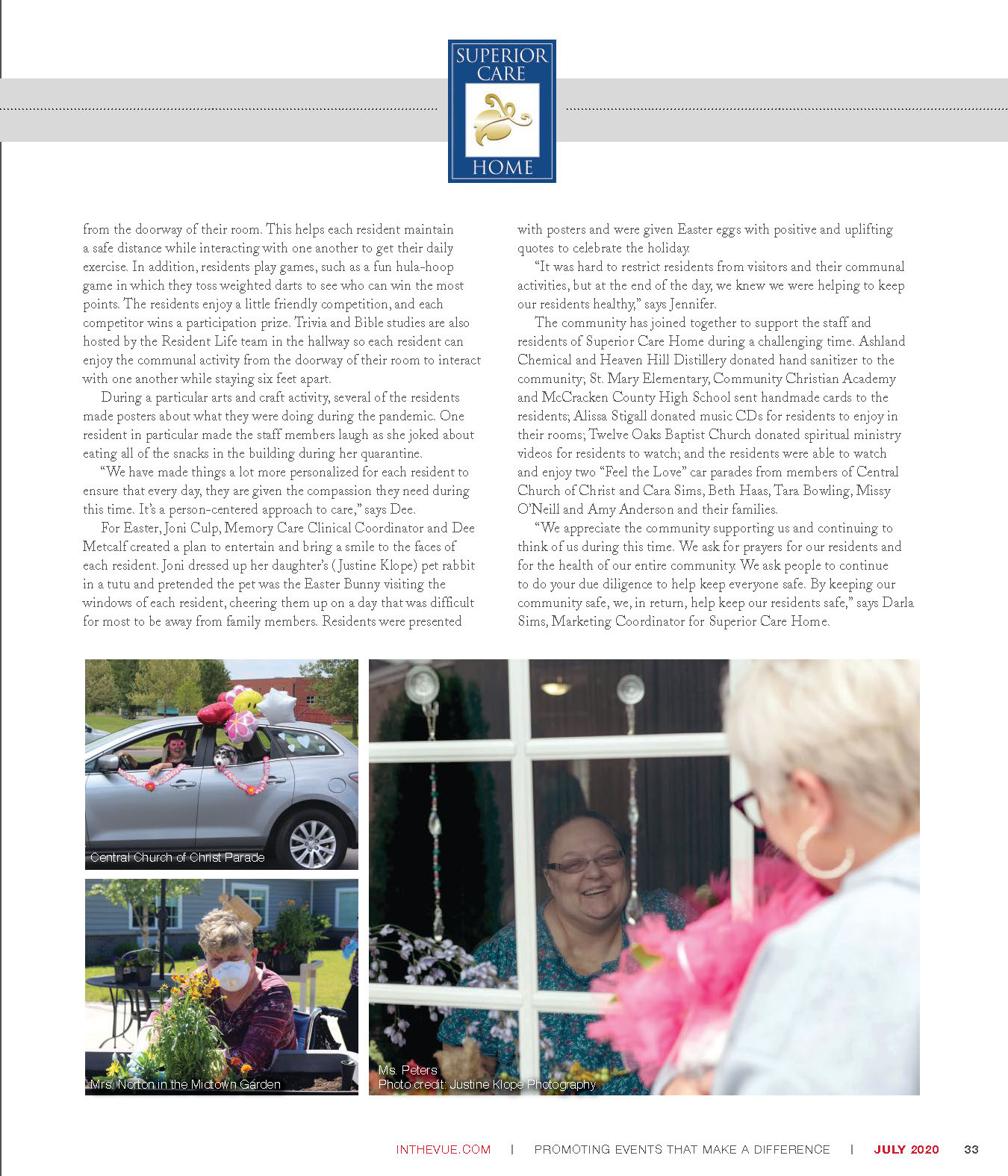 How To Select a Long-Term Care Community: A Few Pointers Can Help
More than ever, when you or a loved one needs physical rehab, long-term care, or memory care, there are many options; and one size does not fit all. It can be overwhelming to sort through all the information to make this crucial decision. But take a deep breath and relax; these key steps can help ensure that you make the choice that works for your loved one and you.
Determine Your or Your Loved One's Needs
If the goal is a short stay for rehab after an injury, surgery, or illness, you will want to know what therapy services (such as physical and occupational therapy) the community provides to address specific goals. These goals are personalized for each individual and may include navigating a set of stairs or dressing without assistance.
If the need for care is due to Alzheimer's disease or another form of dementia/cognitive impairment, memory care may be the best option. Memory care services range from assisted living, where residents are relatively stable otherwise, to skilled nursing, more appropriate for residents who also have medically complex conditions and would benefit from 24-7 nursing services. In either setting, memory care should offer 24-hour support, structured activities, and specially trained staff.
There are factors beyond cognitive challenges that might make long-term care the right fit. Skilled nursing centers offer 24-7 nursing care and assistance with activities of daily living (ADLs), such as eating, bathing, dressing, and grooming. If you or a loved one can no longer manage multiple ADLs due to an accident, injury, chronic illness, or other issue, a skilled nursing center is likely the best fit for maintaining comfort, safety, and quality of life.
Compare and Contrast Communities
The federal government maintains a website designed to help you assess nursing homes in your area. Doralyn Warren, Director of Nursing at Superior Care Nursing & Rehabilitation advises, "use the Nursing Home Compare website to find highly-rated centers—it's a good indication that the care is high quality." Be sure to tap into your own network, as well. Ask healthcare providers, friends, and family for their experience and recommendations.
Make a Site Visit
Ask to see patient rooms and common spaces to evaluate cleanliness, comfort, and privacy. Check out the dining room and menus. If possible, have a meal there and interact with some of the patients or residents. Get answers to questions like:
Do patients or residents seem comfortable, engaged, and happy?
How long have most of the team leaders and nursing staff been at the center?
Are there advance practice professionals or physicians on staff?
Are staff friendly with patients/residents and address them by name?
Are there activities that you or your loved one would enjoy?
Can patients get up and go to bed when they want? Do they have some choices at mealtime? Can they enjoy special pleasures, like a visit from the family dog?
Consider Financial Options
Paying for care is a common concern. According to Mike Sims, COO of Superior Care Nursing & Rehabilitation, "With a qualifying 3 day hospital stay, Medicare will pay for up to 100 days of in-patient care for those needing rehab therapy." For long-term or memory care, long-term care insurance or personal resources are commonly used. In some instances, Medicaid can cover also the cost as well. Sims continued, "Ask the social services or admissions staff to help assess payment options and available assistance."
You've Got This
Under any circumstances, this can be a difficult decision. Having a clear understanding of the options, matching that with your individual needs and wants, and having a payment plan will enable you to make a wise, informed choice.
Does Your Elder Have a Mobility Plan?
The CDC created an amazing plan to help seniors stay healthy and safe at home and in their neighborhood. Click file link below to learn more! https://f.hubspotusercontent30.net/hubfs/443880/PDFs/CDC-AdultMobilityTool-9.27.pdf
Superior Care Offers FREE Balance Screening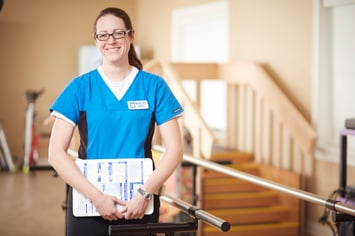 On Friday, July 19, the McCracken County Senior Center, hosted a Senior Health & Fitness Expo at the Robert Cherry Civic Center in Paducah. Local and regional senior health and wellness vendors were on-hand to share healthy lifestyle tips to area seniors. Superior Care offered Free Balance Screenings to attendees.
Kristy Shanks, Physical Therapist, assessed over 60 fair attendees with the help of our portable BIODEX Balance Machine. Shanks shared "One of the reasons balance testing is so important for seniors is to assess their risk for falls. The BIODEX Balance System determines which sensory system (visual, vestibular, or somatosensory-strength& sensation) an individual relies on to maintain balance. The Biodex system also can provide instant results and can highlight the areas in need of improvement."
With the outstanding turnout at the Health Fair, Superior Care now offers Free Balance Screening, with no appointment necessary. You may stop by Monday through Friday, 9 am – 3 pm, and ask for a Free Balance Assessment. The test takes less that 5 minutes to complete, and we will print out results for you to take to your physician. If you would like more information regarding our Free Balance Screening, please contact Micki Colson or Kristi Cates, Therapy Program Co-Managers at (270)442-6884.
Take Me Out to Superior Care! Play Ball!
Recently, Superior Care Home hosted the Paducah Chiefs Baseball Team, a local collegiate summer baseball team. General Manager, Greg McKeel, contacted us and asked if the team could come for a visit and share some community spirit with our residents. They were a hit with everyone! Click link below to read an article in the Paducah Sun about their visit!
Paducah Chiefs Spend Off Day in Community
Seniors & Hydration-What You Need to Know to Stay Hydrated this Summer!
With summer upon us, the heat and humidity remind us to stay indoors and to stay hydrated. For seniors, thirst receptors begin to diminish and being mindful of hydration levels becomes a challenge. Click link below for some helpful tips about staying hydrated this summer!
Download Helpful Hydration Tips.
Superior Care Shares Expertise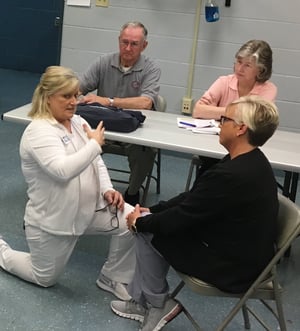 Recently, Superior Care's Dee Metcalf and Joni Culp assisted in "Golden Alert" training set up by the Kentucky Department of Emergency Management. The Kentucky Division of Emergency Management (KYEM) offered a twohour Golden Alert training session for the Western Kentucky EM Directors and emergency personnel on Wednesday, May 1st at the KYEM Area 1 Office in Marshall County at the Benton National Guard Armory. An instructional team consisting of a KYEM search and rescue instructor from Owensboro and Certified Dementia Practitioners, Dee Metcalf and Joni Culp, with Superior Care Home in Paducah, provided communication training to area emergency management, law enforcement and rescue personnel.
McCracken County emergency management director Jerome Mansfield said, "First responders to search incidents greatly appreciate this combination of an experienced state instructor with credentialed local memory care experts. We always appreciate gaining knowledge that will help us find a missing person as soon as possible." In addition, the class included information on the recently passed Senate Bill (SB) 55 "Green Alert" legislation by the Kentucky General Assembly. SB 55 amended Kentucky's Golden Alert law, KRS 39F.180, to allow local search agencies to rename a "Golden Alert" for missing military veterans as a "Green Alert". Senator Danny Carroll of Paducah was a co-sponsor of this bill which was signed by Governor Matt Bevin on March 22, 2019.
Below is an excerpt from Newschannel 6's Shammaria Morrison's story that aired on May 1st on WPSD-TV. You can view the entire news story by clicking on this link. Golden Alert Story. "......Resident Life Coordinator, Dee Metcalf, works with people who have the disease at Superior Care Home Nursing and Rehabilitation Center. "Someone with dementia will get in their car, and they will take off driving, and they may forget where they were actually heading and where they were going," said Metcalf. It's all hands on deck when a Golden Alert is activated. "We need to push out law enforcement, to rescue squad, emergency management, dispatch, media," said Marshall County Emergency Management Director Curt Curtner. "So everybody needs to have a good understanding of what's involved in the process." They talked about how agencies can help each other by understanding what they have to do in a Golden Alert situation. "The quicker we get to a residence, get the information, I can start the process circulating for that person," said Paducah Police Capt. Joe Hayes. Hayes said people who go missing don't just stay in one city or county. When they move around or get in a car, it's important that everyone is on the same page.
The Alzheimer Association says the number of people in Kentucky with the disease is expected to increase by 17% in the next six years. Almost 3 million Americans under the age of 65 have Alzheimer's. Clinical Director, Joni Culp with Superior Care said it touches everyone. "You might want to believe that it won't happen in your family, but it's becoming more prevalent, and you never know when you're going to come across or be helping a neighbor," Culp said." Thank you, Joni Culp & Dee Metcalf, for sharing your expertise with our community first responders!
National Skilled Nursing Care Week at Superior Care
The American Health Care Association, the nation's leading advocacy group for the long-term care industry, established the 2nd week of May as the National Skilled Nursing Care Week. Superior Care celebrates this week annually, and this year's theme "Live Soulfully" provides an opportunity to celebrate what makes our residents and staff feel happy! Activities include giving back to others, celebrating our heritage with green bean snapping and boot-scootin' bluegrass music, enjoying a stay-cation with fun in the sun, and relaxing during our spa day! Both residents and staff share their personal joys, celebrating what makes all of our souls happy! For more information regarding the week's activities, click link here.
National Skilled Nursing Care Week Event Calendar.
Nursing Homes: Times have changed and Superior Care Continues Commitment
The American Health Care Association, the nation's leading advocacy group for the long-term care industry, recently released the state of the nation's nursing home industry, highlighting the results of the Quality Care Measures instituted by the Office of Medicare and Medicaid Services. The report challenges the outdated perception that quality care is declining in the nation's skilled nursing facilities and proves the opposite with data based research of the quality measures instituted by CMS in 2011. According to the report, "Long-term data collected by the federal government since 2011 show the magnitude of the improvement in quality."
The report shows the following areas of improvement on the national level-fewer antipsychotic medications, fewer pressure ulcers, fewer residents experiencing pain, fewer residents with depressive symptoms and an increase in the overall quality of care measurement. Superior Care Home's Perfect State Survey for 2018 and overall FIVE STAR RATING from CMS prove that our over 4 decade commitment to quality care is being recognized, and we continue to strive to be a leader in the long term care industry. Superior Care's CMS data also show improvement in those areas and result in better outcomes than current state and national averages as well.
According to Healthcare.gov's website, quality measures quantify healthcare processes, outcomes, patient perceptions, and/or systems that are associated with the ability to provide high-quality health care, with the overall goals being the following: effective, safe, efficient, patient-centered, equitable, and timely care. Measurements include: Health outcomes, Clinical processes, Patient safety, Efficient use of health care resources, Care coordination, Patient engagements, Population and public health, and Adherence to clinical guidelines.
"As a local owner and operator, we consider it a privilege to care for your family's loved ones in this region. And our perfect survey and our continued FIVE STAR RATING proves our commitment is ongoing and four decades strong," shared Mike Sims COO/Owner. Click link below to read full report from the American Healthcare Association.
Selected as "Best in Kentucky"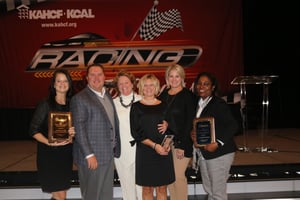 The Kentucky Association of Healthcare Facilities (KAHCF), the long-term care industry's leading advocacy group in Kentucky, held its annual conference on November 13-15, in Louisville, Kentucky. The conference concluded with its annual Awards Dinner. Superior Care Home Nursing & Rehabilitation was presented with three top awards for their outstanding commitment to quality care and leadership in the industry. Superior Care is honored to be designated as "BEST of Kentucky-Nursing & Rehabilitation". Our recent community event held during National Nursing Home Week was given top honors for "BEST Public Relations/Community Event Award". Our Director of Nursing for 41 years, Doralyn Warren, was also honored as the "BEST Director of Nursing" in the state of Kentucky. "We are excited to receive these BEST in Kentucky honors, and we are proud of the commitment our care team brings every day," shared Helen Sims, CEO/Owner. "Our Director of Nursing, Doralyn Warren, has also been a leader in the nursing profession at the district and state levels and is so deserving of this honor!"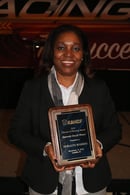 Superior Care Celebrates Veterans Day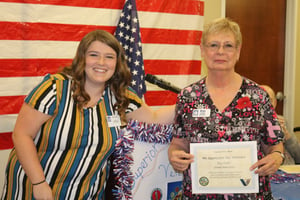 On Monday, November 12, Superior Care hosted a wonderful celebration honor our Veterans and their families. Dee Metcalf, Resident Life Coordinator, and Kay Fields, Activities Assistant and Army Veteran, created an amazing event honoring all of our veterans at Superior Care and all veterans who have served and are serving our country. Certificates for each of our veterans were presented. Kelley Chronister, Social Services, read poems detailing the history of the Red Poppy, a patriotic flower symbolizing veterans and their sacrifices. The First & Second Grade classes from Community Christian Academy performed patriotic songs and delivered hand crafted cards to our veterans and other residents. To view Veterans Day Celebration video, click here.
Superior Care Stands Out from the Crowd
Helen Sims, Owner/CEO and Mike Sims, Owner/COO, responded to a recent editorial in the Paducah Sun and invited Executive Editor, Steve Wilson to come to Superior Care for a visit. Mr. Wilson took them up on their offer, and he wrote a follow up editorial the following week. Thank you, Paducah Sun, and Executive Editor, Steve Wilson, for touring Superior Care and informing the Paducah Sun readers that Superior Care continues to provide award-winning care since 1972.
Superior Care Recognized
Superior Care Nursing & Rehabilitation, a family-owned and operated skilled nursing and rehabilitation community with 46 years of senior care excellence, proudly announced today that it has attained a Deficiency Free Annual Survey from the Cabinet for Health & Family Services-Office of the Inspector General for the State of Kentucky.
In 1972, Superior Care's founder, Mary Ellen Thompson, named her community for the standard of care she wanted to achieve. "Receiving this Deficiency Free Survey confirms that Superior Care is doing an exceptional job, and provides the highest quality, person-centered care to our community, continuing my grandmother's, our founder's legacy," shared Mike Sims, COO/Owner. Jennifer Myers, Administrator, agrees "We are so proud of this achievement. We put the care of our residents first, and this perfect survey is confirmation of a job well done by our entire team."
OIG is responsible for ensuring that nursing facilities who are participating in the Medicare and/or Medicaid programs are compliant with mandatory federal and state licensure requirements. The inspections, called surveys, are conducted on a no-notice basis and consist of a checklist of areas and categories to examine. The categories include policies and procedures, resident care, dementia care, medication administration, medical records, kitchen sanitation, staff competencies, dietary needs, life safety codes, fitness and adequacy of the community.
Superior Care encourages prospective families who are seeking short-term rehabilitation, long-term care, and/or memory care for their loved ones, to request a copy of state surveys and compare results. "Only 5% of the nursing facilities in the United States receive a Deficiency Free Survey," states Doralyn Warren, Superior Care's Director of Nursing. "Surveys are an important tool to help families gauge the quality of care a facility provides."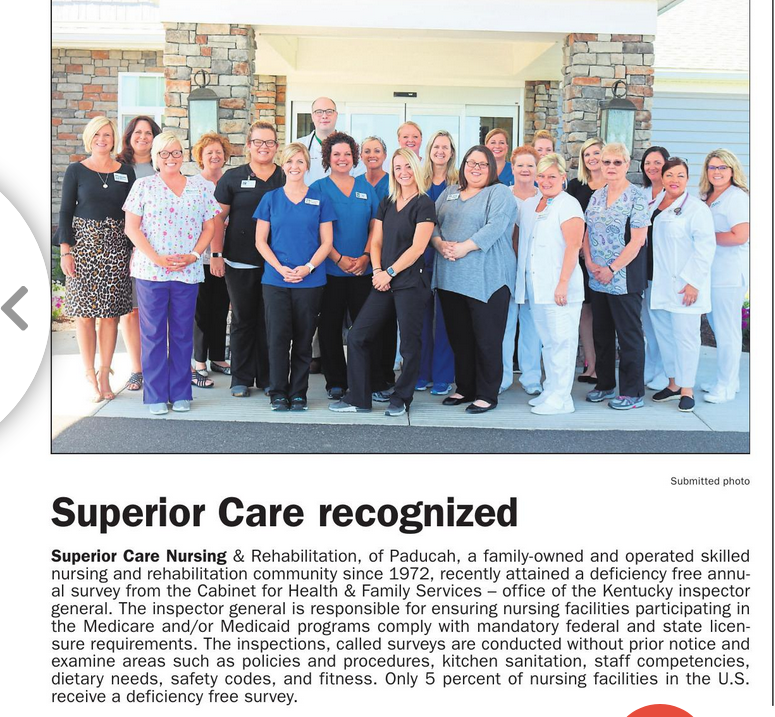 National Skilled Nursing Care Week
The week of May 13-19, 2018, was a grand success at Superior Care Nursing & Rehabilitation. We celebrated National Skilled Nursing Care Week, formerly known as National Nursing Home Week, with many fun-filled activities for our residents and families. From musical groups, to Life Story book presentations to our 2nd annual Superior's Got Talent Show, our residents and staff made this week so enjoyable! Everyone has a story, and we, at Superior Care, are going to celebrate EVERYONE's story-resident and staff alike! Click link to enjoy our celebration slide show!
National Dementia Education Week at Superior Care
During the week of February 14-21, Superior Care celebrated National Dementia Education Week-a nationally recognized education week. Throughout the week, our Certified Dementia Practitioners-Resident Life Coordinator, Dee Metcalf-CDP and Lowertown Clinical Director, Joni Culp-LPN, CDP, created and shared a variety of dementia educational materials for our staff and visiting family members. They provided helpful dementia care worksheets and taped informational videos to help better understand the signs and symptoms of dementia and the unique care needs of someone with this diagnosis. Our Registered Dietitian (right), Nicole Schmittou-MS, RD, LD, also shared some helpful nutritional tips including introducing finger foods and how to thicken liquids when swallowing challenges take place. Click video links below for more information.
Download Helpful Dementia Care Tips Video here.
Download Helpful Nutritional Tips Video here.
If you have any questions regarding dementia and caring for someone with dementia, please call Joni Culp or Dee Metcalf at (270)442-6884. We would love to help you! Helping each other is the best way to help our loved ones!

Random Acts of WOW by Paducah Bank
On Wednesday, February 14, Superior Care residents were the among the many blessed recipients of Paducah Bank's Random Acts of WOW, in honor of the bank's 70th Anniversary. Click link to view video story.
http://www.wpsdlocal6.com/2018/02/14/paducah-bank-preforms-random-acts-of-wow/
Making Spirits Bright
The holidays can be a joyous celebration for families and friends. However, if your loved one has dementia and or Alzheimer's, the holidays can be challenging. Joni Culp-Memory Care Clinical Director-LPN, CDP, shares a few tips for making spirits bright when visiting your loved one in a long term care setting. Holiday Tips for Caregivers booklets are available at the Superior Care receptionist desk.
Lemonade & Learning: The Importance of Hydration for Seniors

Recently, Superior Care hosted a community outreach program at the McCracken County Senior Center and the Ballard County Senior Center. Our Dietitician, Nicole Schmittou, shared a brief presentation on the importance of "Hydration for Seniors". Here is a summary of her presentation.

There are many health conditions affecting seniors that can ultimately lead to unwanted hospital visits. Do you know what brings seniors into the hospital most often? Is it falls at home, heart disease, UTI's, or complications from cancer? If you guessed UTI's, then you are correct! Hydration for seniors is imperative to overall health and can prevent the recurrence of UTI's.

Here are some common signs of mild to moderate dehydration: thirst, dry mouth, fatigue, headache, infrequent urination, dry skin, constipation, dizziness or lightheadedness, muscle cramps, bad breath, cravings for sweets, altered mood, crankiness, fuzzy thinking. Signs of severe dehydration are: rapid breathing, rapid heartbeat, severe dizziness or lightheadedness, unconsciousness or delirium, not urinating or having dark-colored urine, extremely dry skin, sunken eyes, extreme thirst, low blood pressure, not sweating when you should be.

Here are some common misconceptions about hydration.
1. Drinking any type of liquid will help improve hydration status.
FALSE-Drinks containing caffeine (tea, coffee, soda, energy drinks) act as diuretics that cause your body to lose fluid, worsening hydration status. Stick with caffeine free drinks such as juice, lemonade, water, and smoothies.
2. You should stop drinking beverages immediately after dinner to prevent having to get up and use the rest room in the middle of the night.
FALSE-You only need to stop drinking 2 hours prior to going to sleep to prevent middle of the night bathroom breaks.
3. Foods provide your body with hydration as well as beverages.
TRUE-All food contains some amount of water. You can improve your hydration status by snacking on water dense foods such as citrus fruits, berries, melons, apples, pears, and dark leafy greens.

At Superior Care, we encourage hydration with our
flavored water stations throughout our neighborhoods. Stop by for a sip!

Here are a few tips for incorporating hydration into your daily routines.
1. Set a timer to remind yourself to drink a glass of water every 2 hours.
2. Take a bottle of water with you when you are traveling to the grocery store, doctor's appointment, church, etc.
3. Where do you spend the most time when you're relaxing at home? Keep a bottle of water next to these favorite spots, such as on your night stand, by the chair where you watch tv, on your bathroom counter where you get ready in the morning, etc.
4. Bored with water? Flavor water with tasty combos of fresh fruit. Try strawberry/kiwi, lemon/lime, orange/mango, apple/grape.
5. Make juices more refreshing by serving them over ice. Sip on warm hot cocoa instead of coffee in the morning or after dinner. Try these easy homemade smoothie recipes. Download recipes.
Cold War Patriots Resource Fair
The Cold War Patriots Organization provides resources for all former employees of the Paducah Gaseous Diffusion Plant and Allied Chemical. The organization recently hosted a Resource Fair. Superior Care's Medical Director, Dr. Danny Butler, was presented an Award of Excellence for providing exemplary care for our community. Superior Care is honored to have participated in this resource fair and we look forwarding to caring for our Cold War Patriots and our community for generations to come!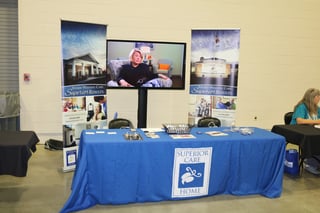 The 2017 Purchase Area Mental Health & Aging Coalition Conference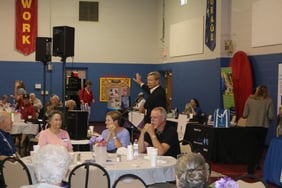 Recently, Superior Care Home participated in the 2017 Purchase Area Mental Health & Aging Coalition Annual Conference at Lone Oak First Baptist Church. The vision of the PAMHAC is to bring together consumers and providers of mental health and aging services, individuals from academic, medical, legislative, faith base entities, and other interested parties for the common purpose of improving the physical, mental, emotional, and spiritual well-being of residents through a comprehensive approach. This year's annual conference hosted a variety of keynote speakers, including Skip Wirth RN, BS Public Health, who spoke about how stress affects your health and how to incorporate the 7 characteristics of stress resistance in your lives. Another keynote speaker, Gerina Whethers, BA, JD, from the Office of the Attorney General, shared the Kentucky Attorney General's mission regarding Senior Kentuckians and spoke about the top trending scams for seniors, prevention tools and other techniques to protect against fraud. Ms. Whethers shared the following links to available resources for seniors.
Link to Office of Senior Protection Brochure:
http://ag.ky.gov/family/seniorprotection/Documents/SeniorProtectionBrochure.pdf
Link to the Attorney General's Website: http://ag.ky.gov
Happy National Nurses Week!
Superior Care Home salutes are invaluable and amazing and compassionate nursing staff in honor of National Nurses Week! We are so grateful for their dedication and the true ministry they provide our residents and their families! Thank you to all of our nurses!
Click here to watch our "Thank You, Nurses!" video.
2017 Best Nursing Home & Rehabilitation-Thank You for Voting!
Superior Care Home was recently voted as the Best Nursing Home/Rehabilitation Center by the Paducah Sun readers, 5 years in a row! We want to thank everyone who nominated us and who voted for us! We feel that it is a privilege to care for Western Kentucky families since 1972. Thank you, for this prestigious award!
Superior Residents Celebrate March Madness
Superior Care Home residents, Helen Morgan and Thomas Mathis, recently were interviewed about how much they enjoy watching Kentucky basketball, especially during March Madness!
http://www.wpsdlocal6.com/2017/03/22/fan-proves-love-uk-wildcats-ageless/
Bringing Paducah Home
This summer, Ms. Martha Baker, had a great idea. She wanted to have a painting put on the fence that was part of her window viewing area. After researching a few options, Ro Morse, founder of the Paducah Wall to Wall Floodwall murals, graciously donated banners that had been made from various floodwall murals. Ms. Baker and the other residents are just thrilled with the new artwork, which brings back many memories of Paducah and its downtown historical gems. You can read more about this story in the November/December edition of Paducah Life magazine.
Download the Paducah Life Magazine feature article.
Superior Care Home-Aging and the Arts
We love sharing how special Superior Care Home is! The Paducah Sun recently visited us during one of our daily creativity activities.
Superior Care Home Selected "2016 Best Nursing Home" by Paducah Sun Readers
For 4 years in a row, readers of the Paducah Sun have selected Superior Care Home as the Best Nursing Home in the region for 2016! We are honored by this award as we continue the legacy of our founder, Mary Ellen Thompson, who started Superior Care Home over 40 years ago, establishing the standard of excellence in elder care for this community. Thank you, Paducah, and Paducah Sun readers for this award!
Superior Care Home featured in Paducah Bank WOW Magazine
Paducah Bank featured Superior Care Home in their recent WOW Magazine.

Grand Opening
Monday, November 24 was an opportunity for us to thank the many people close to this project of our brand new Superior Care Home building! Those in attendance had a big hand throughout the construction process - from beginning to end - and were able to gather and tour our new building together.
Find out more.




Brand New Superior Care Home Community Opening in December
Superior Care Home announces the opening of a new community in early December. The first new construction of its kind in over 40 years, Western Kentucky will benefit from expanded services.
Download the press release.
Superior Care Home on the Cover of Purchase Family Magazine
Superior Care Home was featured on the cover of the January 2015 issue of Purchase Area Family Magazine. Inside the issue, there is also an article detailing all aspects of our brand new building.
Read the January 2015 issue.